READ....
Mothers Who Point and Shoot >





READ....
Mothers Who Point and Shoot >



Mothers Who Point and Shoot
The other day, I unearthed an envelope of photographs from a pile on the floor of my car. These had been taken this summer when Mom and I went to Amherst, Massachusetts, to visit my niece and infant great niece.
One of Mom's stated goals for the trip was to get a photo of the four generations of females--Mom, my older sister, my niece and her child--ideally with none of them crying. (When I was a new mother in the throes of post-partum hell, I don't know who cried more: my son or me.) I understood the importance of the Kodak moment, since the birth of this child had transformed my mother into a great grandmother.
I flipped through the Amherst photos and was flooded with memories. The thrill of meeting this baby and seeing my twenty-three year old niece in the role of mommy. The fun of walking the streets of an incredibly picturesque city, nestled in the mountains. The excitement of stumbling upon Emily Dickinson's house just in time to take a tour. And the taste of Indian food because whenever I travel to a new place, particularly a small city, I always look for either a Thai or Indian restaurant. Not that Chicago isn't loaded with these, but eating at the only such ethnic restaurant in an entire region is somehow more cool.
One afternoon, Mom and I drove to a nearby attraction: the National Yiddish Book Center, located on the campus of Hampshire College. Disney World it's not, but I was interested to see the efforts being made to save and catalog more than a million out-of-print Yiddish books from throughout the world. (Also the fact that there was no admission charge didn't hurt.) Since I don't speak the language, outside of the occasional "shlep" and "kvetch," it was all Greek to me, in a Germanic/Hebrew/Russian sort of way.
Before we left, I noticed an attractive sign for the Center out by the road, so I asked Mom to pose beside it. I had a "disposable" camera and took a shot. Then I asked her to take one of me. Any of you who are the family photographer know that the down side is rarely having any photos of yourself. While I don't love getting my picture taken, I need the occasional proof that I accompanied my family somewhere.
Picture this: a rectangular sign planted in the ground, maybe twelve feet wide and five and a half feet high. I stood at a distance and aimed the camera in its direction. Satisfied with the photo composition, I asked Mom to stand where I was and I went back to the sign. "Can you see me in the viewfinder?" I called.
"Which part is that?" Mom doesn't do cameras, not even point-and-shoot, but I didn't count on this being too high-tech for her. After all, she owns and operates a toaster oven. How different could it be? Push-and-toast.
I jogged over and again showed her where to look. I also rechecked my distance to be sure there was plenty of room in the viewfinder for me and the sign and the trees behind us. Then I jogged back to my spot next to the sign and posed. Mom fiddled with the camera. "Do you see me now?" I shouted.
"I'm not sure."
"Well, do you see the sign?"
"All I see are some trees."
I noticed that she seemed to be aiming about forty-five degrees to my right. "Mom, put the camera up to your face, look through the little square, and point the front of your body more towards me about a quarter of a turn." I figured that would require less coordination than only turning her face. And I was sure she knew what a quarter was--the tip she leaves when she buys a cup of tea. "Can you see me now?"
She laughed. Not a good omen.
"Mom, I don't look that silly, do I? Is my fly open? Or is it my moustache--did I forget to bleach it?"
"No, Mar, nothing like that." What she said was almost more unbelievable than if she'd told me the Loch Ness monster was in her viewfinder. "I can see the right half of the sign, where it says 'Book Center' and the left part where you are, but I can't see anything in the middle."
As I stood beside a sign with a single, bold, horizontal line of English text saying, "National Yiddish Book Center," and Yiddish text horizontally above it, I wished I had known a few choice Yiddish words that she couldn't translate. All I said was, "Oy," and laughed with her. I suggested that she just take the picture and whatever comes out, comes out. She did, and when she finished, a college student walked by. I asked if he'd mind taking a photo of Mom and me and he was happy to oblige. Fortunately, all I had to say to him was, "Point and shoot."
Had I given these instructions to my mother, and had she been armed with a weapon along with the camera, I am convinced that I would not be writing this story today. So thanks, Mom, for leaving your .357 magnum back at the motel.






© 2000-01 by Marilyn D. Davis. All rights reserved. Distributing or copying this material via e-mail, hyperlink, disk, print, or any other medium is prohibited under U.S. copyright law without written permission of the author.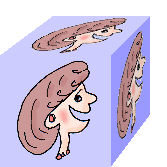 Britney Spears, Bono,
and...Oops!...Me2
According to my kids, thirty years from now my claim to fame will be saying, "I saw Britney Spears live in concert at the Allstate Arena during her 'Oops!...I Did It Again' tour." They don't understand that I've already claimed fame, at least in my own mind.
Magic Wand
Flash back nineteen years. Picture me at a U2 concert, crammed into a crowd, close to a stage equipped with a scaffold on which Bono can prance and dance, a full story above me. I was looking nearly straight up, enraptured by his energy, gyrating to his music. And then it happened: a drop of sweat was propelled off his body and landed on my forearm. I felt like I had been touched by my fairy godmother's magic wand. (Okay, maybe that's a bit over-dramatic, but when you're in love with an icon, small things like sweat take on enormous proportions. If you don't believe me on this one, ask Monica.) For days afterwards, I showered with my arm out at a right angle so that no water would come into contact with the holy site. I allowed my girlfriends to view the spot up close and, for a small fee, signed autographs using the hand attached to THE forearm.
[Historical Note: Concerts back in "those days" featured a band on stage, playing recognizable instruments and singing into microphones on stands. Special lighting effects were no more elaborate than psychedelic projections or strobes, and matchbooks set aflame by adoring fans urging an encore. Costumes consisted of thrift shop goodies or whatever the band wore on their latest album cover.]
Dining on Popcorn
Flash forward to December, 1999: the month my husband braved the frigid Chicago weather for over two hours while standing in line to purchase tickets for our family to see the March, 2000, Britney Spears concert. My older son had been worshipping this young woman for a year--a full one-thirteenth of his life--so we decided to give him an early birthday present. The week the Visa bill came due, I recall eating dinners where the main course was unbuttered popcorn. Generic, not overpriced Orville.
My throat felt scratchy the night of the concert, signaling the onset of a nasty cold (or worse), but no way was I going to miss the event of the new millennium. Besides, my son would never forgive me. So I stuffed my pockets with medicated throat lozenges, wedging one into my navel for good luck, and headed off to the arena.
Listen or Ouch
Even before the opening act let loose, the music was deafening. Some sadistic audio tech must have taken pleasure in exposing middle-aged parents to recorded tunes at a decibel level comparable to having one's head inside an engine during a rocket launch. Fortunately, my husband and I had brought along spongy earplugs. Although the plugs were neon orange and nerdy-looking, our kids didn't razz us because during this pre-show phase, they were too busy ogling the $35 t-shirts and $10 boxes of Cracker Jack. Not to mention the Britney look-alikes.
I'd have to characterize the event as more of a "musical extravaganza" than a "concert." She had back up singers, back up dancers, multiple costume changes, the obligatory pyrotechnics, a multi-level stage complete with trap door elevator, and--my personal favorite--a magic carpet on which she sang one number while floating out over the you-gotta-know-somebody main floor seats.
Britney's image was projected on a huge oval surface above and behind her. This satisfied audience members from the TV/computer generation who don't think anything is worthwhile unless it's on a screen. No doubt some of the younger fans later bragged to their friends that they'd seen the coolest Britney Spears video. And who could blame them? I, too, had a hard time focusing on the adorable dancing dot on stage, a football field length away.
Was It Live, Or....
Throughout the evening, I was haunted by one question: was this "live" music? Britney wore a headset with a built-in microphone, supposedly so she could sing and dance simultaneously. She also wore a waistpack with a black device about the size of a deck of cards strapped at the small of her back. I wish somebody would explain this because I kept thinking she was listening to her favorite 'N Sync mini-disc while belting out her own songs. (She's still dating Justin, isn't she?) And I can't be too sure of the belting either. How can a girl sing and move like that without her lyrics sounding breathless? (When I was her age, I got breathless doing the Hokey Pokey, if the party was co-ed.) Several times I shouted to my son, "Is she singing or just lip syncing?" His reply, when he didn't wave me away in the classic gesture of teenage disdain, was, "What?"
So did we see a concert or a piece of performance art? A dance and music recital or a Vegas review? A live event or a long segment of MTV? I may not have these answers, but I am positive about one thing: no beads of B.S.' sweat fell upon any concert-goer that night unless faux perspiration was sprayed on earlier and programmed to drip off on cue. Which could bring a whole new meaning to the chorus: hit me baby one more time!




Exercises in Marital Compromise
At the end of last summer, we broke down and bought ourselves some real exercise equipment. I mean the genuine article: not pricey athletic shoes endorsed by a sports superstar, or a curved, steel device designed to rock my abs, buns or biceps into body parts with an appealing, steel-like texture.
This historic event occurred after our beleaguered bathroom scale groaned a message to my husband and me which could only translate to: Hey guys--your mid-lives are past due for a change towards the healthier. Far too many years had been spent discussing the pros and cons of joining a health club, taking walks on a regular basis, or counting as exercise a few daily trips up/down the stairs combined with occasionally chasing the kids out of the kitchen.
Since before our sons were born, we had been in possession of a flywheel stationary bicycle--which gradually morphed into an over qualified clothes drying rack--so when we went on our fitness equipment quest, he instinctively gravitated towards the bike-like equipment. Being the good sport that I am, for the moment I went along for the ride.
I use the term "bike-like" quite literally because the most sophisticated machines can provide your own virtual Tour de France, complete with geographically correct hills and plains, canned cheers from the crowd, and an offer of a cafe au lait at the finish line. Of course you have to work your way up to this race, starting with the equivalent of a tricycle trek down to the corner and back (and don't cross any streets!) This would have been about my speed.
Exercise bikes come in assorted styles, with as many bells and whistles as you want to spend your hard-earned money on. I saw traditional, upright bikes and recumbent ones, all with elaborate digital displays, but none with an actual bell, as in, "RINNGGGG--passing on your left!" We're both from the old school, thinking that the more electronic gizmos on a machine, the more potential for things to go wrong. Consequently, we scrutinized the ones with the fewest options: Get On, Pedal As Though Your Life Depended On It, and Get Off.
Shortly into the first of our comparison shopping trips, my husband and I discovered we were of two different minds on this matter. No big surprise; why should this be different than anything else? I recognized that I am more the walking type, so I steered him over to test out a treadmill. Once I hit my stride on the machine, I discovered how liberating it is to be able to walk briskly and not worry about stepping on chewing gum or animal droppings. (At home, just be sure to train Rover to stay away from the equipment.)
The salesman explained the differences among the various models. My main concern, though, was in comparing the features designed to keep your mind off the task at foot so you won't realize this is actually good for you. Certain models included drink holders, reading racks, or built-in CD players; I think the top of the line treadmill had a "manicure" attachment. I was particularly drawn to the treadmill with a program that walks you to the virtual ice cream parlor.
My husband stuck to his story that he preferred cycling to walking and I stuck to mine. After a few more visits to fitness stores and several rounds of tense negotiations, we compromised on a simple, recumbent bike that doesn't need to be plugged in, plus a floor model treadmill on special close-out. This way, we figured we would be able to exercise at the same time without interfering with each other.
Now it's nine months later and I am proud to say that not once have I hung a damp article of clothing on either piece of equipment. In fact, we are using both of them regularly. My husband has cultivated an interest in running and therefore almost exclusively uses the treadmill; I split my workouts between the two.
We don't look like Arnold Schwartzeneggar or Jane Fonda yet, but we are feeling healthier and shaping up in small ways. Plus we still get to quibble over who uses which piece of equipment when, and what music to listen to while exercising and how loudly.
Some things never change.